Malaysian voices (Malaysia, 2022)
The result of one month in Melaka, Malaysia, with an open microphone and on a hunt for stories to tell.

I had the idea of making 3 podcast episodes, so I've build an introduction + 3 stories + a conclusion + a bonus story that showed up at the end and was not planned.
The total duration is 59:12 minutes.

My original plan was to interview people, but once this turned out to be harder than expected, I could either give up with the project, or just keep the microphone hidden and record all the time. I've chosen the second. Therefore all the voices you hear between pieces of my post-production voiceover capture spontaneous conversations I've had.
Infinite thanks to, in order of appearance, Uncle Kee, Kai, Moe, Alexander, Kelvin, Liwa, raegge bar friends, Clara, Tim, Birdcage customers, Alessandro, girls who gave me a ride when it was raining, and Shan – and sorry for me recording secretly :p

If the audio quality is not great you can follow up with the text.

english – [04:20]
A few facts about Malaysia and Melaka that help understand better the context of these episodes.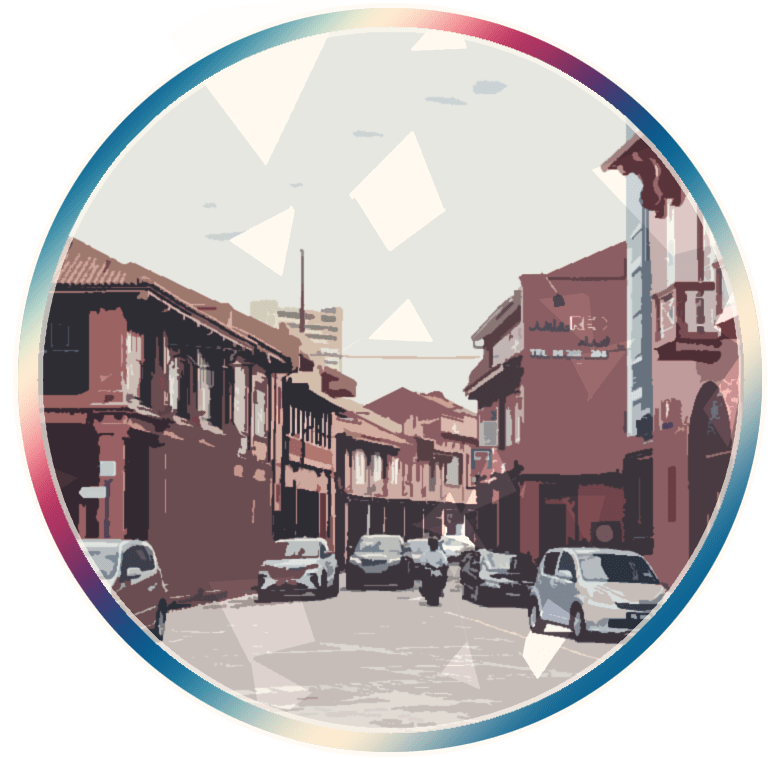 text
Hey! Welcome to these series of podcasts that collect some stories I've came across with during a one month stay in Melaka, Malaysia.
If you're not very familiar with Malaysia, I'll share a few words here that can help you understand better the context.

First of all, Malaysia is a… hot humid country in South East Asia, between Thailand and Indonesia.

The number one remarkable thing about it, for me, is its population belonging to three different ethnical groups: the native Malaysians, which are called "Malays", the Chinese Malaysians and the Indian Malaysians. There are obviously other minorities too, and even some indigenous tribes.
But these three groups make most of the population. They live quite harmoniously together; well, they have some tension moments sometimes, but harmioniously together overall.
And each group has its own customs, language, religion, food, skin color, way of dressing… I spent a lot of fun time learning to recognize them.

– Maybe look at the eyes, Chinese eyes are smaller than me. Hehe. And the lips. Chinese lips are thinner. Malay lips are broader, thicker.

– Chinese are good in business. Indians are good with tradition.

And once I learnt, I started playing the "identity game" all the time.

– Every races have their own beauty.

There's so much variety on the streets, and it's beautiful to see this mix!
But one thing all Malaysian groups seem to have in commons is… friendliness. I've been seriously impressed!

– Hello… Haha. You look tired.
– Hey, how are you?
– Nice to meet you.
– Nice to meet you too.

English is widely spoken, due to former British colonization, so, helped by the lack of a language barrier, I interacted with so many people, shared very interesting conversations, received lots of acts of kindness and… made many local friends.

So… Within this beautiful country, I have decided to spend a month just in one place, the city of Melaka (or Malacca).
It's been quite painful, honestly, to choose only one destination and leave aside all the others, but I preferred to dive into one like a local, rather than touch lightly many… as a spectator.

Melaka caught my attention because…
– Everything started from Melaka.
– Yes, everything started from Melaka.

– So Melaka become empire just within few years. From the fishermen village to the empire.

It is located in a very strategical position, where the sea trades from East and West have to pass. Historically speaking, so many populations and tribes and merchants and pirates and colonizers came here, and traded, conquered, fought, left stories behind.

– Yeah, this is the place, at least during the century time, this is the place where most European mixed with Asian people.

I wanted to find those stories.
Did I? … Well, not quite the stories I was expecting.

– Melaka grow very fast. So this changes. Young people who move here, work, marry, and so… So the culture is different already. It's no longer the Melakan cultural.

Today's Melaka, with its 9 hundred thousand inhabitants, is very focused on other topics, let's say, like development, business, tourism…

My challenge has been to navigate through all of that, to find something different, something unusual to tell.
And then, I believe, once you build the right attitude, in any place…

– The stories are there.
– The stories are there!

english – [11:09]
When I met Liwa, he was just a slow cyclist ringing the bike bell behind me. But within a few hours he introduced me to an unexpected way to connect with the city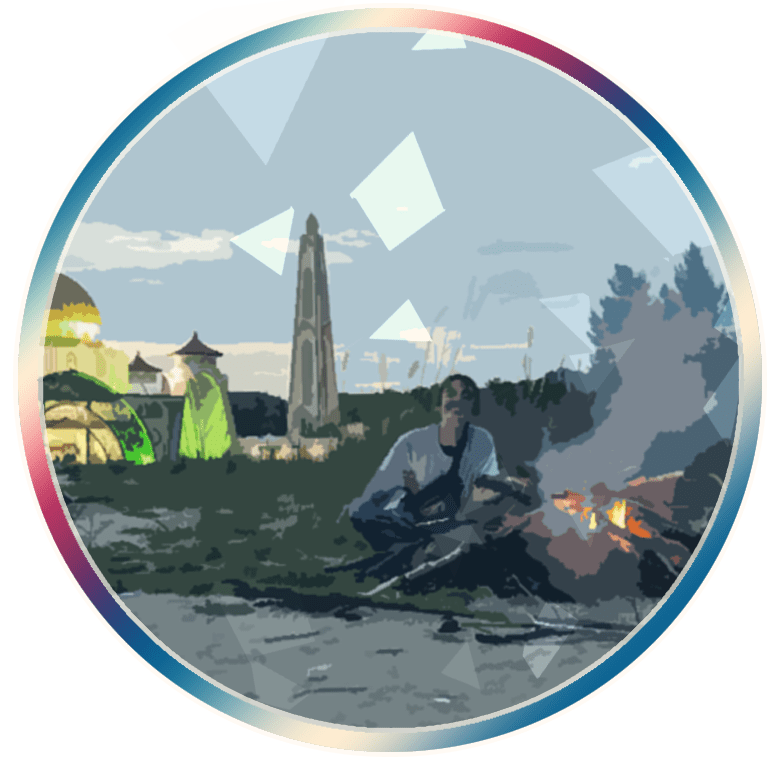 text
I'm walking in this narrow curvy alley that follows the river, and…

[bike bell]

Ah, cyclists..!
To let the bike pass I move to the side of the little street, on a path made of wooden boards above the water.

It's 2 pm, extremely hot outside, and I'm covered in sweat. Waiting for the bike to come, so I can move back to the paved floor, but the bike doesn't come. I look behind and it's still there.
These boards I'm walking in are quite unstable honestly, they swing when I step on them, and it feels like they could break any time and I would fall right in the river.

So, when is the bike coming?
I turn back again. I see a guy with a pink t-shirt, tanned skin, sunglasses, long black hair and a surfer hat, cycling veeery slowly. And…

[bike bell]

…still ringing the bell!
I keep walking on the boards, and getting a bit impatient, and turning, and waiting. This guy is just taking all the time in this world..!

Little do I know that, by the end of the day, I'm gonna do the same..!

Finally the guy arrives. But, instead of passing me, he rides side by side and asks: "What's up? Are you going to a new hostel?".
I answer, he asks some more questions, I have a few others for him, we start chatting, and he's so friendly that a few hours later we have already had lunch together and we're sipping an ice coffee at the bar of his friends.

– Thank you. Grasia, eh?
– Grazie.
[Malaysian talk]

What's the story of this slow-paced guy, named Liwa by the way, who became my friend just because we were walking and cycling on the same street?
Is there something about his attitude that can make life more enjoyable?
I think so.

– You like raegge?
– Yes.

See, I've been for a while in this big city, and so far I have seen only its busy side and its tourist attraction side. I was missing something like this, I was wondering where to find more authenticity and deeper human connection.

[Malaysian talk]
– I tell him that you are living in the island in Italy.
– Ah, okay.
– We love islands so much, we love beaches, but this guy likes more mountain.
– Him?
– Him.
– He's a mountain person. But he lives in the city.
– Yeah… City boy.

Talking about the city, Liwa has a proposal for the evening to make me connect with this kind of environment.
He takes his bike, makes me borrow the bicycle of the city boy…

– Thank you so much.

…invites Clara – another traveler he's just met – to join us, and… off we go!

We cross the city at the rhythm of raegge music, which is very fun because it kind of makes you forget that you are cycling in a city..!

Well, this applies to Liwa at least, who is sliding on the asphalt like a surfer in the ocean.
Clara and I are… hmm, slightly more mindful and vigilant… For example in front of this huge crossing with traffic lights.

– Here comes the scary part.
– When it is going to red, we need to be in the middle. Red, we have to be in the middle, otherwise when the other is gonna be green we have half way to cut.
– Okay, I follow you, haha.
– Okay, go go go.
– Yes, survived!
– Good job!
– Good job, thank you.

The ride ends after we cross a huge bridge and set foot on an island in the south of the city. We leave the bikes at the entrance of a pine forest, and we walk through it to reach a stripe of sand. Heading to its side, we follow a dry canal, walk on the sand again, and then up to pass some big stones, and jump down, finally, to reach a small beach.
It's our destination, but it's not – you know – a paradise beach; just a little corner of sand and rocks, not pretending to be polished for visitors – just being… authentic, just being itself.

We have a big mosque in front of us, which is a quite modern attraction, full of green and yellow lights … and from this lonely beach, alone, we're quietly watching its backyard.

[Muslim chants]

Very punctual at 7 p.m., the chants calling the Muslims to prayer start.
And this is exactly the moment when the sun touches the ocean.

[Muslim chants]

Meanwhile, I see Liwa picking up all the rusty pieces of wood he finds here and there.

– I didn't ask Liwa if he needs help.
– I think he's looking for some woods.
– Yes.
– Do you need help?
– Sorry?
– Do you need help?
– No no. Just a small one.
– I think it's enough. Do you want to burn someone?

Preparing a bonfire, in the hot Malaysian evening.

– Clara, can I have your lighter?
– Finally we can warm up a little bit!

I mean, really we weren't cold at all, and we make a lot of fun of that… …but this for sure is warming our hearts.

[Muslim chants]

– Now we have bonfire, see the Floating Mosque…
– Yeah.
– And by the sea, what else do we want?

And… As the night comes in and the fire crackles projecting long shadows, and we talk softly and laugh… three people who met each other just a couple of hours before… and the lullaby of the waves, and…
Do you know this feeling, when you're aware of the present moment, and you think you're living a very special one, right now? And you know that what makes it special is… nothing special, just the combination of a few ordinary things: the sunset, the music, the fire, the friends..! And this ordinariness makes it even more special, because it means it's so accessible, it's so simple, it's just right in front of you all the time..!
That's how it feels now.

[Muslim chants]

That's how it feels as well once we head back, in the dark, up and down through the big stones, the canal, the sand, the pine forest, the bicycles, the night and the sense of freedom that chases us across this long empty bridge.

– I love this smell and this warm breeze…
– Yeah.
– The smell of tropics.
– I like the temperature.
– Perfect, this is just perfect.
– You know what is that from?
– What is it?
– Eagles.
– Eagles? Really? Eagles…

And all it took…

[bike bell]

…was the rings of a bike bell, and… slow-pace.

english – [12:25]
A cafè that doesn't look like a cafè at all. Driven by curiousity, I hang around it every day to understand its dynamics… Until I become a part of that.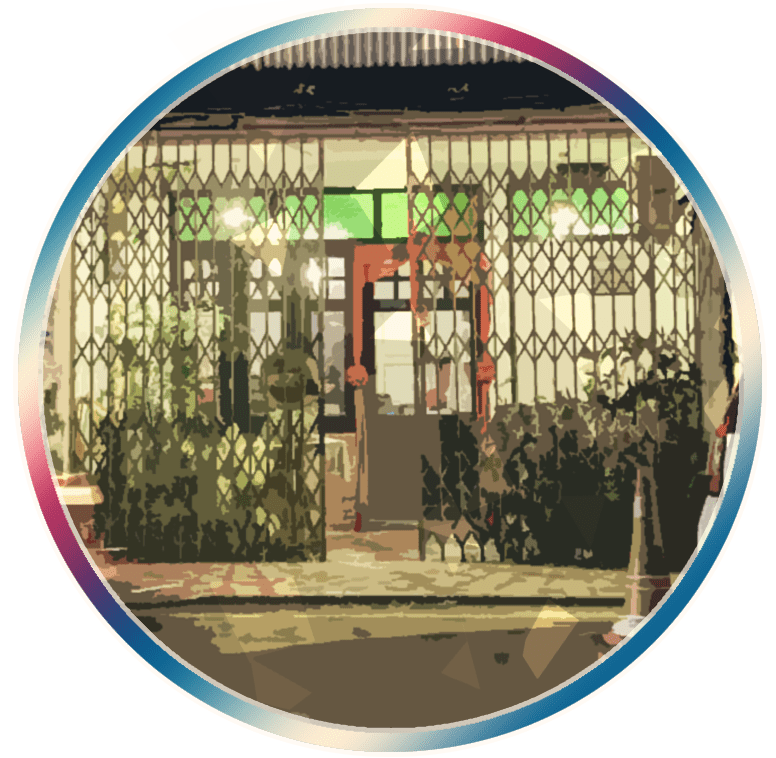 text
[street noise]

There's this street, not too small, not too crowded, not right in the city center but not far away, a bit busy maybe in the morning when the trucks double park to unload their stuff… And, along this street, there are two-floor houses, squeezed side by side, and – pay attention here – the road bends, slightly.
This bend affects the buildings nearby, making them hardly noticeable, and bringing bad feng shui to them – feng shui is, you know, the Chinese art of placing elements in space so that energy can flow harmoniously.

So, if you stand in front of those unlucky buildings, you will see a rusty gate half closed – your body can barely pass through it. And, behind, you will notice a little terrace with an orange traffic cone, a bicycle with flat tires, a gas cylinder, plants growing here and there, and, framed by red curtains, a door.

No signboard invites you to come in, but if you're lucky enough to do it, here's what you find.

– Oh, hi.
– How was the evening?
– Good, good thanks.
– See, I just open for business 30 minutes ago.
– Ah, just now.

Welcome to the Birdcage, the coziest cafè in town.

– Is there some space, to try one cake? It's a tough decision, eh. What do you recommend, the raspberry cake? Okay.

I'm sitting at the only empty table. There are four tables in total, no more than twelve people can ever think of staying inside, the place is very very small.
But extremely fascinating, it has this old-style charm. There are so many things to look at, while you sip your coffee: a counter made with bricks, old crusty walls, a fake door with a hanging lamp, a blackboard with the menu, an empty frame – framing falling pieces of wall, I guess -, a table with a hundred of eggs, a bird cage, a wooden radio, Christmas trees (it's November), pillows, and an armchair shaped like a buffalo.

Customers arrive, spend some enjoyable time and say goodbye. When night comes, a few faces gather to play mahjong.

– It's so fast, you look experts.

Oh by the way, I know this well because there's a ladder at the back of the cafè which takes to a little loft upstairs, and that's where I'm staying. It's amazing, my mornings start with the smell of freshly baked cakes.
But… what's exactly the story of this place? Why is it like that?

– I was supposed to have this place together with a friend, but then she kind of like screwed me in the last minute. So I had to take the place all by myself, which is quite a big responsibility.

This is Tim, the head and the heart of the Birdcage.

– So back then my brother said to me – like, his suggestion, or advice – he asked me to maybe just sacrifice this place and then I loose the money. But then, at that time I think "no, i feel like this place has more potential". Yeah, and then look at what I'm doing today. I would say I'm lucky I followed my intuition.

When Tim opened the cafè, the place was mostly empty. There was just one regular, customer: a man named Felix, who kept coming almost every day to enjoy solitude and, often, to bring dinner for Tim, worried that he could be starving.

But Tim had a secret skill… He knew how to bake cakes.

– Now I always do this one, the scone, palova, tiramisu, raspberry and brownie, brownie cake.
– Raspberry, tiramisù.
– Chocolate, strawberry, caramel, cream coconut.
– I love coconut.
– I'm really enjoying it.

– Wow!
– Good?
– Wooow. Mmh. It's super creamy. It's visually beautiful, I love these stripes you made.
– Yeah, then you get some smell of burnt chocolate.

– My tiramisu, the receipe was given by an Italian girl.
– Ah really?
– Yeah, last time she stayed in my guesthouse also we make tiramisu together. People really like it, they say my tiramisu is very good.

– And what's your favourite cake here?
– Brownie.

I mean, when your cakes taste so good, your cafè cannot remain empty for too long, right?

– I started from ground zero. Because it was during covid, and nobody knows about my cakes. I really rely on every customer. Then suddenly they come here, and then I ask them to help, post on social media… And then they really like me, they like the cakes, and slowly from there… One of the strenghts with me is with people. Some people just tell me they feel I'm genuine, I'm easy, I'm sincere. It's quite easy for me to make the connection. Because in this business it's always about the interaction, and then especially this place is very small. You can't expect a small place like this, people come here have a coffee and cake, and then…
– With no interaction.
– Yeah, no interaction, everyone just quiet, with the phone… it won't work.

– Before the raspberry become so popular, so famous, I, seriously, if you ask me, cannot imagine what I can achieve today; like, so many people, and I can make so many cakes. I would not know it is possible.

There's something special I start to notice as days pass by. I recognize faces. And I realize that most customers coming here are not just… customers.

[background chat]

They're treated like friends. They're made fun of. They laugh. Everybody laughs.

[background chats and laughs]
– Crazy people. And now he wants tiramisu, I don't know what happened to him today. Yeah I think I saw something from his phone yesterday…
– Something that you were not supposed to see?
– Hahaha!

[Chinese talk]
– Everything is so open!
[group laughs]

– So do you see sometimes different tables, people who don't know each other, interacting?
– Yes yes, now I have a lot of customers who start to know each other from here, because they always see each other.

Customers are so comfortable here that I see some eating their take away food from other places…

– You wanna try some sweet milk tea?
– Okay.
– It's not from here, it's from outside. She always orders outside food when she's here.
– Wow, not always.
– All the time.

And others falling asleep in the armchair, hiding the face under a pillow…

– See, see, all these people come here to sleep.

And… Slowly, slowly slowly, something happens with me as well.

At the beginning I felt like an outsider. I was observing these people, the dynamics of this cafè, with a lot of curiosity, yes, but… you know, staying in my place.

And then… Observation after observation, chat after chat, and especially cake after cake, I start feeling at home. I get more comfortable in the chair, in this little space, and as days pass by I'm more and more connected to these funny friendly sweet people.
I become a part of the Birdcage too!

– Oh, I've got something for you Laura.
– What?
– The book, the drawing book. You can draw on the first page.
– You know there's always the pressure of the first page..!
– Yeah, that's why it's for you.

– I'm not sure what to draw. Ah, I'll draw what I see in front of me.
– So you're good?
– I cannot draw people. So I will just draw circles, haha.

– Don't change your position, eh!
– Don't change your position! I warn you!
– Haha.

[Jingle Bells in background]
– For me it's very unusual to hear Christmas songs when it's hot outside. And these songs are talking about snow.
[laughs]

– You want to learn mahjong?
– I do. If it's not too complicated.
– It's the West in Chinese.
– Ah, this means West.
– You see, this is four, six, eight, nine.
– Yes, I see some repeating pattern.
– So it's one circle to nine circe.

Now I'm really enjoying the low visibility of the Birdcage from the street, its half-closed gate, the orange traffic cone, and the crusty walls, the only four tables… Because it is all essential to build this cozyness inside.

– When let's say new customers come here, and then they see "oh, only three tables", "oh, you have a lot of customers", they start to immediately think: "oh, you should have a bigger place, you should have more tables, you should hire more staff, make more cakes", this and that… Because they don't understand, and they already label. But I don't blame them. I would say I know what I can do and I know what I really want from this place. I would not say "I want 1 million ringgit, I want a lot of money". It doesn't mean I'm not really focused or serious with what I'm doing. Because at the same time I need to understand: this is small place, and then I would say it is only me, myself alone. This is exactly what I want to do.
It's like a neighborhood place.

A neighboorhood place. A place built for the community, planned with people in mind. Not money, people.

I think there's no bad feng shui that can ever interfere with this attitude.

Oh, and remember Felix, the only customer Tim had for a long time? I met him only once here. He doesn't come anymore as often as he used to do, he says that it's too crowded now. Yeah, all the twelve seats are usually taken indeed. But he's very proud of that.

– Good job!
– I know!

english – [11:44]
It all starts with a monkey stealing personal belongings… And it ends with sunset chants at the cemetery. A search for traditions hidden behind modernity.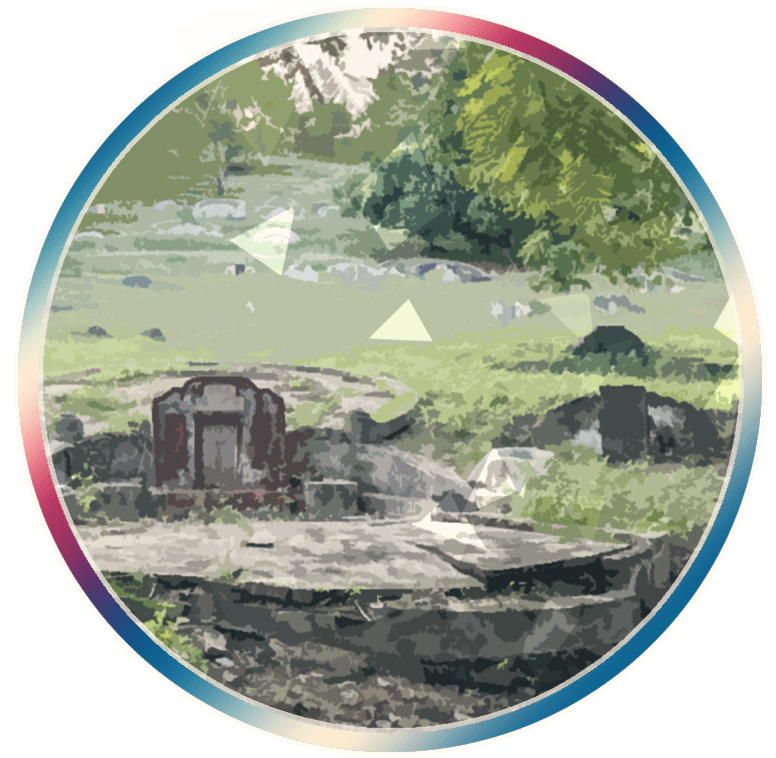 text
[birds and background chat]

So, I'm staying in this quiet place, you hear, I'm cycling around this very peaceful neighbourhood, and one day I come back home from a walk, leave my sunglasses on the table, and then, they're gone. Just like that. The day after, a pair of underwear disappears from my room.
I know there can be thousands of explanations about lost objects, but I want to point out that I'm a person who almost never loses things. I'm very mindful of what is where at any time.

A few days after, I hear that in this peaceful district of little houses with gardens and green spaces there's a thief.

– There are some monkeys. Last time they got 2 or 3 monkeys, but now I only see one.

My host, Uncle Kee, says that there's a monkey in this area that some time ago has stolen the dinner and the phone of our Japanese neighbor. She called her phone number and heard it ringing outside, and then the sound slowly faded.

– The monkeys are considered dangerous, because they're not afraid of humans. So they're very eager to come very close to you.

So, this means that maybe there's a monkey out there, jumping from tree to tree wearing my sunglasses and underwear. Maybe even while speaking at the phone. Haha, I'd love to see it.
But as days pass by and my belongings don't show up, I observe my window from outside and, yeah, I convince myself that nobody could enter the room from there, the space is too narrow. At least nobody with… a physical body.

– Welcome to Asia!
– Welcome to Asia… Where the ghosts are more than humans.

"You have to wait until night falls, and then walk silently along the walls, climb up one of the hills, sit on the old stones or stare quietly at the flowing water, and you will hear it. It is almost a whisper, like the breeze, but you hear it all the same: the voice of history. Malacca is one of those places: full of dead. And the dead whisper."

Italian journalist Tiziano Terzani passed by Melaka in 1993, and defined it as "the most haunted city in the world". He kept hearing stories of ghosts all the time, from everyone, and his explanation was that this place had seen so many populations passing by, and with all the battles and wars that happened, all these different people left their fears and traumas behind.
Curiousity about that is what brought me to this city. But 30 years have passed, and today's Melaka has met modernity, development and mass tourism.

[city sounds]

So whenever I ask about ghosts, people look at me, and say "Ghosts? What ghosts? Oh. Ah, that's something older generations used to say to scare children".

– I heard that Malacca too has a lot of ghost stories, or used to have maybe…
– Noo…

– But somebody told me there was a ghost in the hotel.
– Why about this story?

Urban development and ancient beliefs usually don't go side by side. Something happens when we surround ourselves with cement and technology, something that turns us into skeptical beings towards things we cannot see.
Is it that we know better the reality now, and we know what is true and what is not? Or is it rather that, disconnecting ourselves from the natural environment we belong to, under layers of cement, we lose an ancient capability to pay attention to unseeable things?

It's probably the search for this answer that drags me almost every day towards Bukit Cina, an ancient hill in the heart of the city that seems to have many stories to tell.

[birds and steps]

During the 15th century the Chinese admiral Zheng He came to Melaka in an expedition with the daughter of the Chinese Emperor, Hang Li Po, so that she could marry the sultan of the city and enhance commercial relationships between the Chinese empire and the kingdom of Melaka. This hill was given as a gift and became the residence of the princess.
With centuries, it slowly turned into a cemetery, and it's currently the biggest Chinese cemetery outside of China, with its over 12.000 graves.

The most fascinating thing, to me, is that these old tombstones are widely scattered on the big hill and are disposed in a semi circled shape, like a turtleback, which is meant to protect the graves from the noxious winds on three sides, according to the tradition, and also resembles the mother womb these people came from – and are returning to.
There are trees everywhere, some roots have even desplaced tombstones, and birds, monkeys, joggers…

[birds and steps]

So Bukit Cina is one of those places where past and present, life and death are harmoniously sharing space, in a very natural way.

Oh, and I forgot to mention: it looks like the ghost of the princess enjoys wandering here at night.
Is that true?

– In Bukit Cina there are some stories of ghosts.
– Because cemetery there. A lot of cemeteries over there. They don't put a light, so it becomes dark over there. And yeah, when dark most people quite thinking about ghosts, they're scared. If you put a light over there, I don't think people are scared to go out there at night.

– I heard there's a ghost in Bukit Cina, is it true?
– There's a ghost in Bukit Cina?
– Yes.
– Not just one I think.

[background chat]

This is Alessandro, and we want to find our truth by taking a look at Bukit Cina by night. But something weird happens… The exact moment we step in, it starts raining strongly, out of the blue, and we have to run away.

– Qua sta piovendo. Andiamo sotto là? [It is raining here. Should we go under there?]
– Sì. [Yes]

Hmm, is that a signal?
– Però significa qualcosa questa pioggia. [But this rain means something.]

Okay, we try again another day, but earlier, in the afternoon.

We walk up the hill, sweating, it's very hot and humid as always, but every time I come here, as soon as the city sounds start fading, I feel harmony and peace. All these semi-circle aligned graves have a lot of space around, and are exposed to the cosmic breathe.

We arrive at the top, where there's a great view over Melaka and the sea behind. The sun is almost setting.

[birds and steps]

As it happens often during sunset time, the wind starts to rise. And it's very welcomed, very refreshing. The leaves of the trees around play with it like drums.

[wind sounds]

The sky becomes orange, the street lights turn on…
And, because it's also Muslim's prayer time, all the mosques from the city below begin with their chantings, and their sounds are brought up this hill from all directions, simultaneously, by the wind.

[Muslim chants brought by the wind]

Wow. We're just standing still, eyes closed. We feel it, we feel the magic of this moment, all these deep voices dancing in the air. It can't be explained, but it's blissful.

– Le voci delle preghiere del mondo islamico… Hai spiegato l'un per cento di quello che hai sentito. [The Islamic world's prayers… You've explained only the one percent of what you've felt.]

Like caught by a spell, since this moment I keep coming here every day for sunset, sunset at the cemetery, making this magic part of my daily routine.

[Muslim chants]

Oh, and what about ghosts? Are there really some out there?
Yes, there are some. I mean, there are some non-visible and non-material voices that travel through space, stop time, wander around these graves and touch straight to my heart.
Call them whatever, as long as the ghost research gives me this kind of emotions… I'll keep looking for ghosts.

[steps, birds and chants]

And by the way, it's dark already and I'm walking back home. The hill seems bigger and thicker with the lack of light; the trees appear more distant to each other, spaces are emptier, more mysterious… I notice the shape of a man behind me, getting closer.

– Hey, there was a guy with a white t-shirt behind me, and… now he's gone. I've started walking a bit, now I'm looking back and… he's gone!

Just like my sunglasses and underwear..!

– Yeah, now you understand, welcome to Asia!

english – [06:47]
Some reflections about better approaching different cultures.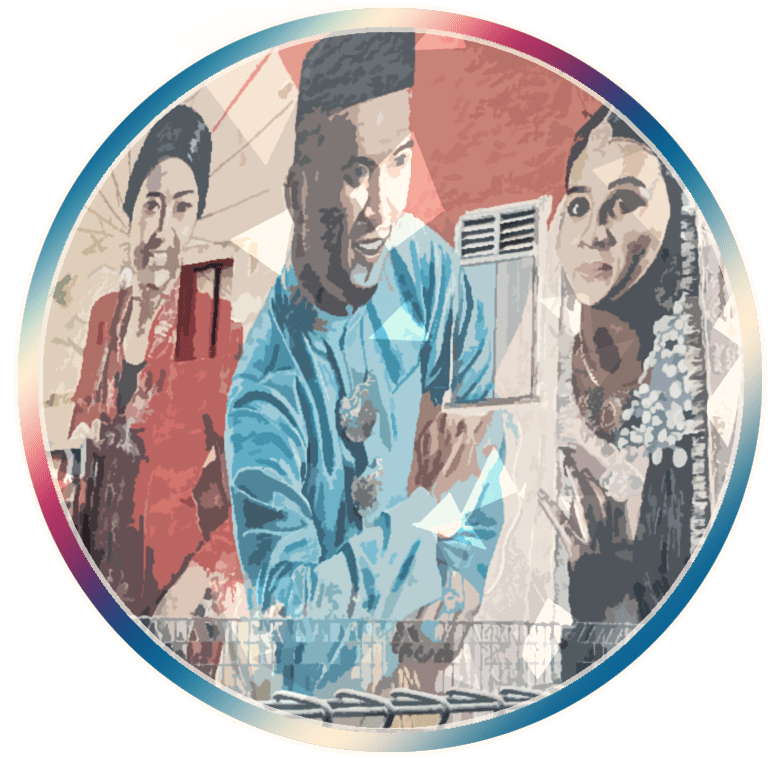 text
In these podcast episodes I've shared a few stories I've crossed path with during my stay in Melaka. I've been focused on interacting and connecting with local people, on a depth that I'd never experienced before.
Out of all the interesting conversations I've had, one topic was quite recurrent: how Western people, and especially Western travelers, are perceived by Eastern people. Conversation after conversation, I could see a little shift in my way of talking and in my opinions. I've slowly become more sensitive, more observant, more aware.
So I would like to share here a few things that I've learnt; a few reflections on how to approach better different cultures, and how to be more mindful travelers. If you're a Western person like me, you might find it useful.

Money.
Money doesn't buy happiness, okay, but when you look at the face of the Western backpacker repeating excitedly how South East Asia is cheap… it looks like it does.
Can you guess who is not so happy about South East Asia being cheap? Yeah, of course the South East Asians. The cheaper their place is for us, the more expensive is the rest of the world for them. So, when they hear about our traveling the world projects, soul searching trips, saving money, quitting jobs, enjoying life, and maybe when they get asked for discounts so that our trips can last longer… They don't find this particularly fun. They are just reminded of a priviledge they're not born with.

– And have you two traveled to some other countries?
– No, not yet.
– Not yet. In our nation only. I'd love to, but I have to work.
– Do you have some holidays sometimes?
– I have to earn money.

Not our fault? Well… It is our fault a bit. And the governments we vote for, or the things we choose to consume, for example, have their contribution in maintening the world inequality. So one thing we can do at least is, like, try to avoid to show off this priviledge. Be more sensitive when we talk about money, when we celebrate a place being "cheap". Because, m uch more important than that, South East Asia is fascinating, is warm and is full of kind people.

Values.
Okay, ethical values are a very challenging topic. We carry our values around, because they're part of the person we are, and we easily project them onto different realities to build a… judgement. The less we understand, the easier it comes to judge.
Some forms of judgement are easier to recognize and avoid. For example, we might find eating rice for breakfast funny or weird, but then just smile at it, right?.
But what about topics in which we truly believe we're right? What about civil rights, or animal rights, or environment issues? It is very hard to face something we don't agree with, something going against our values, and still avoid judgement.
I personally believe that each society is fighting the battles that make sense for that particular society, in that particular age, given the struggles and the priorities of that moment. The fact that we are focusing on a specific battle, or that we've won it already, doesn't mean that it is the right battle at the right moment for any other society. And if this makes us feel superior, or more developed… we should ask ourselves how many of our battles have been won thanks to our economical and racial priviledge, and how much of this priviledge has been obtained at the expense of others.

– When I was studying in the U.K. we talk, we have a chit chat. And they're asking me: "Where are you from?". "I'm from Malaysia", right? "Where is Malaysia?". "Malaysia is located nearby Singapore". "Okay, Singapore I know, I don't know about Malaysia". I say – how come you don't know about Malaysia? Your people coming to my country to conquer my country… Really?

Without renouncing to our ethical values, I think we can just recognize that some societies don't fight the same battles… and maybe hope that in future they will align spontaneously with a direction that is closer to what we believe in.

Kindness.
Western cultures are typically individualistic cultures, where the needs and rights of the single individual are more important than those of the whole society. It's quite rare to see individuals sacrificing for the common good, or for the community, for the family, right? But this is normal instead in Eastern societies. If we see life as too precious to waste it pleasing others, they see it as too serious to live it selfishly pleasing just ourselves.

– I tell you Laura, Europeans have been so much adapted to freedom of speed, freedom of movement, they don't realize that you need to work hard to achive what you want.

Both are two beautiful opposite ways of looking at the world. But sometimes the individualistic way make people rude to each other. And I heard many Asians saying that they feel not treated with kindness when they're interacting with us, in their or in our countries. My personal trip in Malaysia has been marked by so many extremely kind behaviors, which I couldn't help but notice because they were unfamiliar to me.

– I pay for your food.
– Oh wow, why?
– You come to my country, come on.
– Okay, ahah.

If we can learn and adopt a few of these kind actions, without having to change the way we are… the world is going to be a much nicer place.

– Like I mentioned to you, when we are friendly to people, most likely the people will be very friendly to us.
– Yes.

english – [12:46]
Haunted houses, night encounters, and why sharing ghost stories can be an act of rebellion.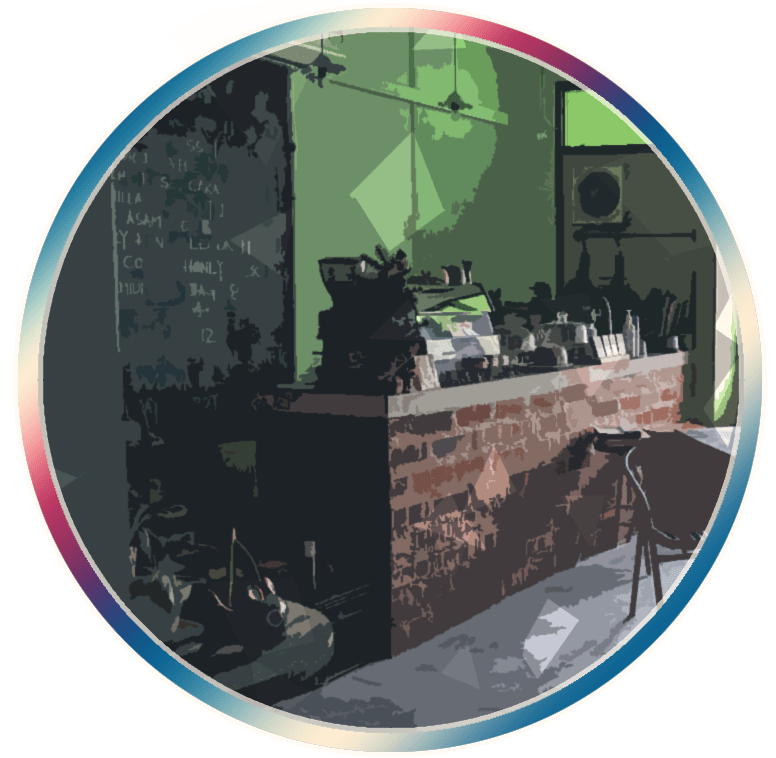 text
If you've listened to these episodes – and thank you for doing that –, you know that I've been looking for ghost stories throughout my stay in Melaka, and struggled. They were so common a few decades ago , but now modernity seems not to leave much room for that.

Until, in my second to last day, to my very big surprise, on a cozy night among friends and cakes at the Birdcage, Tim started sharing some creepy encounters he witnessed. I was so fascinated, I started recording immediately.

– A few years ago, like for a period of time, suddenly I wake up at night. It's like my eyes would just pop, and then totally awake. And then I take my phone, 3:00. Seriously. Never missed. After 1 day, 2 days, 3 days, for… I don't know now, I think the whole thing lasted for about 2 weeks. Every night, until today I still have phobia. I was hoping it was at least 3:01, no, always 3:00.
And then, at that time, behind the door I hang a jacket, a black jacket just behind the door. And at night I wake up and then I have the feeling that thing doesn't look like a jacket, it looks like a person, like somebody is standing there, it's like the shape of a… you know what I mean? It becomes like a shadow, it's a human form. And, night by night, it's coming nearer. Yes, I feel it's getting bigger, like coming nearer to my bed. Yes. Seriously. But of course if I pay attention I know it's still a jacket there, but then it's just a feeling it's already coming closer. Right?

Until one night, you know what actually happened? Suddenly my eyes just opened. Do you know what I saw? A head. Of an omen. O-men. I still remember he was O, like almost no head, omen. The omen was looking at me like this, and then laughing, "hihihi", no head, of course, just "hihihi", behind the books. I could almost hear him laughing. Like "oh, you found me".
– I don't know if I want to sleep alone here tonight.
– Hahaha. But then the head disappeared very fast, but it was very obvious it was an omen.

Suddenly my father and mother hired someone, we call them fortune teller. Someone to look at the feng shui, to look at the house, to look at the things…
– After you told them..?
– No, I didn't say a word, because I didn't want them to be worried. But suddenly they hired someone to come to the house. Then I ask my mother, I said: "why somebody to look at the house?". And then she said to know why they cannot win some lottery, the money, so I just believed what she said.
Then the lady come talk to me, like: "How are you? Are you okay? What have you been doing recently?". Asking me a lot of questions. So then I just answered.

Okay, I tell her, okay, finish, then I just do my thing. Then I overheard some of the conversation: the lady told my parents there is a few – not just one – a few of them in my house. Yeah. There is a few of them in my house, now, it's not just one.
And then some of them have been living there from last time, maybe they have been living in the house before. And then some have followed us from outside. Followed us home. And they're hostile, they don't have good intentions.
Okay, now this is confirmed there's something. So what is next?

I think the next day or like two days later or something, my parents suddenly said to me and my sister that night, after 9 pm, we stay in the house, don't go out, and then close the door, the windows, the curtains, everything… If we hear something from outside we don't answer.
And then my parents mixed something from the lady. It's like a mix with water, so it becomes like holy water or something , yeah? And then they lock the front door from outside, me and my sister were inside, they were outside, and then they splash the water circling the house. And then we stay in the house, like watch TV, stay and nothing. So… okay. Luckily nothing happened, we didn't hear any funny thing or something, right?

The next morning we wake up and then we open the door, right? There's a very thin line of ash. Ashes. Circling the house.
– Where they sprayed water.
– Yes. It's like ash. The house, from the front door to the back door. And then… Ever since then, I didn't wake up at 3 again. So the jacket becomes a jacket again.

I was like: I didn't tell my parents what I've seen, why they suddendly… Then I'm sure my mother has seen something also, but she didn't want to worry us, so she didn't tell us. So after the thing, I never wake up at 3 again, and then I never saw the funny funny thing again. But it already created a sudden kind of fear, until today.

—

– I would have been so scared.
– I don't know.
– A laughing face so close to me.
– Maybe then you need to listen to my story in Kuala Lumpur. The house is definitely – I would say it was definitely haunted. 200% haunted, the house. There's something in the house.

Me and my friends were just renting a room there, sharing some other people, and everyone of my friends who have visited us in the house they said the house doesn't have a good energy. Everybody said the same thing. They enter the house, they feel like it's not comfortable, the house. They've never seen anything, but they said the house is not comfortable.

So… I was sharing the room with my friend, but then my friend never sleeps in the room, he always sleeps outside, in the sofa, every night. So I ask him: "why you don't want to sleep inside?" And then he said "no, outside, the sofa is more comfortable", so I believed him.
Okay. Now I explain the house to you.

My room is the one at the back, it's just in front of the kitchen. And then, because we're just bachelor, young people, we didn't use the kitchen so much; so the kitchen light is always dim, a bit green, very empty, nothing in the fridge, we don't use that, you know, it's like abadoned.
But my room is just, if I open the door there's the kitchen. And then to get to my room I would pass the staircase first. Every time I pass the stairs I feel like there's something upstairs. There's something watching. Yeah. Okay, I just pretend, nothing.

– Okay, now this is the interesting part.
[laughs]
Yeah. Okay. I think it happened at least 3 times, sleeping suddenly I hear a lady, a lady screaming very loud and sharp, like "aaah", right here, and then I'm like "woo".
And then, okay, nothing happened.

3 times, I remember these 3 times. Sleeping, then suddenly someone screaming, okay.
Right until one night, one night, yes, suddenly I'm just sleeping and then I jump. I seriously jump and then I was sitting on the bed. You know what I saw?
– I don't know if I want to know. What?
– A female. Gray, long hair, covered the face, everything, red eyes, sitting like this, on the chair near the table, looking at me like this.She keeps sitting looking at me like this.

Okay, then I just like sleep back, and I pull my blanket.
– The safety area.
[laughs]
– I hope, I seriously hope it didn't happened, like, if you saw it was in horror or ghost movies, suddenly it comes here talking to you. And then, after like this, after some time, I think I just fell asleep again, and then nothing happened.
– Did you manage to fa ll asleep?
– Yeah, I know I'm crazy. But then after that night I told my friend, everybody in the house, of what I saw. You know what they tell me? "Yeah, I know". They know she's in the house! Yeah. Everybody in the house has already seen her or whatever, except me! And then nobody has said anything to me.
I think that is the reason why my friend didn't sleep in the room, because he knows. Yeah. And then when the girl is looking at me like this, she's like: "You're sleeping on my bed".

You're sleeping on my bed..!

You know, that night, after those stories, a few other people from the Birdcage started sharing their weird encounters as well.

– I met one before in Thailand, in the hotel. Yeah… ghosts.

And they asked me if I had some too…

– And you have any..? Nothing?
– No.

And my answer was no. Unfortunately.

I mean, from a certain perspective, I'm relieved that no red-eyed woman ever woke me up at night, but…
I am myself part of a globalized world that is skeptical, that has an answer for everything, that doesn't leave free room for inexplicable things to happen. In such context, sharing ghost stories is an act of rebellion.
Because, you know, mysteries happen all the time, all around us, but it takes an open heart to acknoledge them.

It doesn't matter at the end whether ghosts really exist or not, I think this is not the point, the point is how life can be enriched by paying attention to the unknown, by observing without judging, by thinking out of the box.

So… I hope that these ghosts will inspire you a little bit, as they've done with me, in noticing some magic in the air… during the day. At night, just fall asleep!

Thank you for listening, and see you on the next trip!